PTA

Fairlawn Primary School PTA 2017/2018:
Chair - Kirsty Armstrong
Vice Chair - Sara Morley
Treasurer - David Copland
Secretary - Lucy Kelly
Marketing - Becky Atkinson
Social Media - James Bayliss-Smith
Year 2 Reps - Jessica and Marcus Munafo
Year 1 Rep - Vicky Woodington
Reception (Mrs Grahame) Rep - Lucy Coast
Reception (Miss Adams) Reps - Natalie Di Bartolo and Ruth Brooker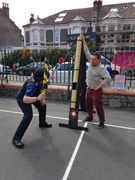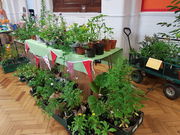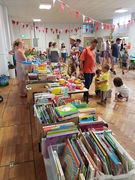 What is the PTA and what does it do?
The Fairlawn School Parent Teacher Association is a group that every parent or carer is a member of when their child is at the school. The PTA is overseen by a group of parents who form a committee and organise social events and fundraising activities.
The purpose of the former is pretty clear - a good opportunity to get parents together, get to know each other and have a fun time with and without our darling charges! (quiz nights, school fairs, camping trips etc). The latter is not always so clear. The PTA fundraise to raise money for the school. The money that we raise is used to fund items that the school does not have an allowance for in its budget. Currently the Fairlawn PTA are raising money to help stock the school libary with an array of books, both non and fiction books. Each year, Mrs Molesworth presents her wish list for the school and the PTA share their wish list. Priority is then given to the projects that serve the current school needs the best. The new climbing frame and wet pour base was in part funded by donations from the first year of PTA fundraising.
How can you be involved?
There are many ways to be involved. Some don't even require very much time or energy. A small contribution to the cake sale is always welcome (as well as buying them!), helping with events where possible, offering time or expertise to a project or event. Often, just turning up to support an event is all that is needed.
The committee meet every term and there is a full PTA meeting, held annually, that everyone is welcome to attend.
If you would like more information, please do not hesitate to contact: Kirsty (kirsty_duncanson@hotmail.co.uk) or Sara (saramorley12@icloud.com)